A couple of years ago, Josh and I fostered a couple of cats for a friend of a friend. They lived with us for two months and were… everything. Adorable. Annoying. Loving. Bitchy.
So one day, I'm holding Mary Pickford up to look at the window at what the gardeners are doing, when one of the gardeners thinks it'd be hilarious to spray the window with water. It wasn't hilarious. I got scratched by a freaked out cat, and she ripped a hole in my shirt. I never got rid of the shirt though, which brings us to the refashion.
I decided to zigzag the hole closed:
Then, I cut out an asymmetric heart from another shirt that had holes (I don't know about you, but after like 10 wears, I get tiny holes toward the bottom of the front of my Ts…):
I was inspired by this sweater from J.Crew: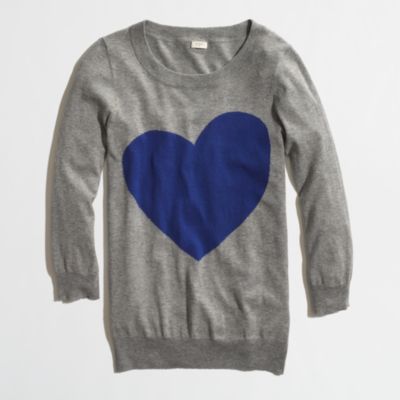 After I cut out my heart, I figured out its placement on my shirt and pinned it. Then, I zigzag stitched on the top of the heart to attach it to the shirt. And, ta-da!
This is how it will look when I'm not pregnant:
It's pretty misshapen on my pregnant self, so I'm probably not going to wear it for another month or two.